Whatwerewe talk'n about?
Site Donor
Posts

5,012
Reaction score

4,965
Location
Sound the sinister music- Black Algae…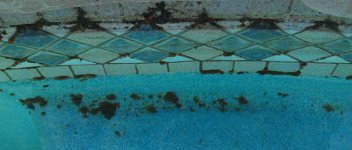 Our pool this morning…​
A couple of small dark spots appeared in the bottom of the pool about 8 months ago. They would not scrub off with the brushes we use to remove the normal green algae with relative ease. I asked our pool company what was it and got the answer at the beginning of this post. Note, that image is not really my pool, but it could be if you or I were laissez faire about it.
Now these spots are small like 1/16", some cases barely noticeable other than as a black dot. On the more developed spots it does look like a very small plant. The plan has been to remove them with a metal brush, a couple of swipes remove it, and then rub the sport with the edge of a chlorine tablet, the kind I use in my chlorinated. You can have them the water and they don't dissolve on you. They take a long time to break down.
So that's what I do, this morning I removed about 20 of these dots, then scraped them with the chlorine tablet. The reason you need to use the chlorine, is they can put a little root into the pool plaster, so the chlorine kills the root, hopefully. We've got it under control, but I can see how this might turn off some people from pool ownership.
If it got bad enough there is an expensive chemical that can be poured into th pool that is supposed to be effective, and the last resort is drain the pool and let the algae die due to air exposure. But then you are talking about a huge water bill to refill it.