Whatwerewe talk'n about?
Site Donor
Posts

5,114
Reaction score

5,016
Location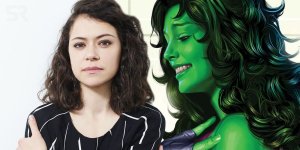 ​
Just finished She-Hulk, one season and done as planned. I'll give this show a thumbs up, with caveats. I enjoyed it, I liked the character, She-Hulk is hot
, but it was too fluffy, too casual, not enough meat, the season/series final, some might call it brilliant, or par for the course, I call it a mess if you were expecting something definitive, not a complete break from the story line. The character had already been making numerous out of character comments to the audience, so the ending is the icing on that cake. But as I've said about other Disney programming, it had 30 minutes episodes holding it back. I'd call it, Disney's lazy programming. You won't ever get any serious story telling in <30 min episodes.
The story got a real uplift with the appearance of Daredevil in the last 2 episodes, and I fondly remembered before Marvel was Disneyfied, the gritty nature of Netflix series Daredevil and Jessica Jones. I doubt Disney has that in them.