Whatwerewe talk'n about?
Vaccinated
Site Donor
Posts

4,637
Reaction score

4,612
Location
Very interesting. We need to get people back into space travel, other than the ISS if we can afford it.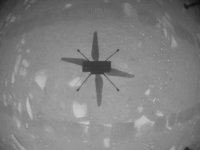 ​
NASA flies a helicopter on Mars, the first time an aircraft has flown on another planet​
https://www.washingtonpost.com/technology/2021/04/19/nasa-ingenuity-helicopter-mars/
<--Second one was inserted using insert link.
NASA successfully flew its four-pound helicopter from the surface of Mars early Monday in the first powered flight of an aircraft on another planet, a feat that NASA officials compared to the Wright brothers' first flight in 1903.
At about 3:30 a.m. Eastern time, the twin, carbon-fiber rotor blades began spinning furiously, and the chopper, called Ingenuity, lifted off the surface of the Red Planet. It reached an altitude of about 10 feet, where it hovered, buffeted ever so slightly by the wind, turned 96 degrees and then came softly back to the Martian surface in an autonomous flight that lasted just about 30 seconds, the space agency said.