Whatwerewe talk'n about?
Site Donor
Posts

5,012
Reaction score

4,965
Location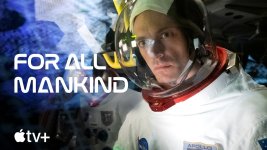 ​
It's described as a alternate reality story where the space race of the 1960s never ends. Then the first episode throws a zinger up front placing it without doubt solidly in the realm of Alternate Reality. I'm still on Episode One and wondering how intriguing will this story will be, can it be?
I'm reminded of the Philip Dick story, Man in the High Castle, where alternate realities, basically parallel universes exist side by side. That has a lot of intrigue, because both were possibilities, and it was painful watching an America run by Nazis.
Is anyone a fan of this? Would love to hear about it with minimal spoilers.