Whatwerewe talk'n about?
Vaccinated
Site Donor
Posts

4,637
Reaction score

4,612
Location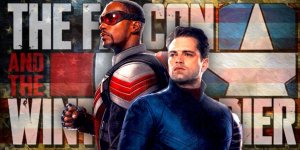 ​
Economy model series, six episodes. Two episodes in. The opening sequence was far fetched enough that it did not really engage me. Wyatt Russell (Lodge 49 if you were a fan) plays the new Captain America without super powers based on genetic manipulation. Is it needless to say both Falcon and Bucky have an issue with him?
This is the second Marvel series that I have watched that reflects the post End Game World. The threat is a group, if I got it right who liked it better before all those people returned from Thanos-induced oblivion. Flagsmashers, one world, no borders or something like that being executed by super soldiers, to bring the world to a state of anarchy... maybe? Well, I only have to watch 4 more episodes to see what happens.