Whatwerewe talk'n about?
Vaccinated
Site Donor
Posts

4,637
Reaction score

4,612
Location
On the radio known as NPR. They share some programming with the BBC I think. That's how we got to watch Downton Abbey in the States... I think.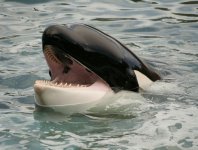 ​
I learned today during a quiz show on NPR, that Orcas, Killer Whales are not whales, but dolphins! And the confusion, might come from them being called Killers of Whales.