Whatwerewe talk'n about?
Site Donor
Posts

4,804
Reaction score

4,745
Location
I thought I discussed buying a new fridge here, but I'll be damned if I can find the thread, anyway...
We recently took receipt of a new
Frigidaire FFHB2705T
27CF refrigerator, made in Mexico, purchased from Home Depot on sale for $2200 + a 5 year warranty, $300. My observation is that so far we like it but, I've already noticed an issue with the ice maker where it seemed to jam up on the crushed ice setting. For this configuration it seems to be a common problem and here is the issue.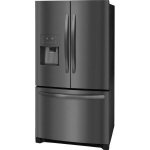 ​
In the side by side Kenmore we still have, the left side is frozen, the right side is refrigerated. (it is headed to the garage.) With the ice maker on the left the ice stays cold no problem, yet the distribution of frozen food on a bunch of narrow width shelves can be inconvenient. On the new fridge, the freezer is on the bottom, nice and wide, plenty of space.
For this new configuration, the ice maker sits in the refrigerated portion of the fridge, and there appears to be a vent in the back that blows cold air into this ice maker, but it appears to be susceptible by virtue of sitting in the refrigerated space, the ice can freeze up. One thing very noticeable, with the original fridge, ice came out completely frozen, while with the new fridge the ice comes out wet, ie not as cold.
This happened to me the other day on the crushed ice setting. Now is this a matter of the ice crusher being weaker than the previous fridge? I don't know. To fix it, I switched it to cubed ice and that seemed powerful enough to power through and dispense, some cubed ice. When I put it back to the crushed setting it worked. I also dropped the temp of the refrigerated part from 37F to 35F to see if that might help the ice maker stay cold.
One thing that does impress me is this energy rating.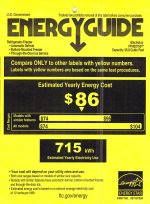 ​
Last edited: