Whatwerewe talk'n about?
Site Donor
Posts

5,117
Reaction score

5,016
Location
Easy Chicken Enchiladas
(makes 10 enchiladas)
2 cups cooked chopped chicken (I use skinned deboned thighs)
2 cups sour cream
1 can condensed cream of chicken soup
2 cups Monterey Jack cheese shredded
3*cups of Longhorn (mild cheddar cheese) shredded- * set 1 cup of this cheese aside to sprinkle on top.
2 TBS chopped onion
1/2 TSP salt
1/4 TSP pepper
10" flour tortillas (package of ten)
Vegetable oil
These are delicious and a huge hit in our family.
Unlike many enchilada recipes there is no tomato sauce used, and these are not drenched/floating in sauces in the pan. They appear as rolled tortillas side by side, with
just
shredded cheddar cheese melted on top. This is closest picture I could come up with online but with just yellow cheddar cheese on top,
no sauce
.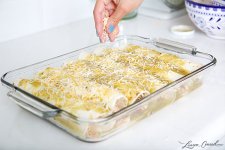 ​
Cook the chicken:
Boil it in water until cooked through. I boil it for about 20-30 min. Then shred or cut up into small pieces.
Mix the filling:
Set 1 cup of the Longhorn cheese aside. Combine first 8 ingredients in large mixing bowl. It's optional to fry each tortillas one at a time in 2TBS oil, 5 sec on each side. I usually don't, using them straight out of the package. This recipe allows you to make up all 10 enchiladas at once or make up less and keep the left over mix in the fridge or freezer to assemble and cook later.
If making all 10, plan on 2, 8x12" or 9x13" glass cooking pans, 5 enchiladas per pan (glass optional
).
To assemble:
You can, but it is not necessary to spray or wipe these pans with vegetable oil prior to placing the enchiladas in them. Place a large dallop of the mix in a tortilla and roll it up. This should make a substantial enchilada, not a little skinny one. Place in cooking pan seam down, side by side. Sprinkle some Longhorn cheese on top of each enchilada. Cook at 350 degrees for 20 min. Serve immediately.
Any mix left over can be refrigerated to make more later. This recipe lasts 2 people, 3-5 meals, 5 meals if each person only eats 1 enchilada. For us, it's usually 3 meals.