Whatwerewe talk'n about?
Vaccinated
Site Donor
Posts

4,637
Reaction score

4,612
Location
Many of us dive into Role Playing Games and ... role play, we pretend, we adopt roles, we can be good or bad, although on the topic of being bad, I don't see the attraction of being bad, but I have some nephews who jump into a game like
Red Dead Redemption
and just rampage though town killing town folks, because they can. My point is we role play in these games. We very likely do not act how we would act in real life. But I digress.
What do you think is the next big breakthrough in RPGs? I think 2 things:
Better AI and natural organic conversations, and Devs taking the time to produce something that resembles more natural communication with NPCs.
Better VR integration.
However, in this post, I'm just going to talk about organic conversations.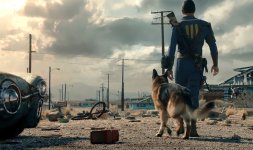 Fallout 4​
Let's start with an older game
Fallout 4
(2015) a post apocalyptic game by Bethesda. In this game conversations are limited. A quest giver, vender, or companion candidates will talk to you but it is all right to the point. However many companions are romancible. That said, companion relationships are basically on auto-pilot, by virtue of spending time with you, the affection trend is up. In conversations with other NPCs, how you respond to them will effect your companion's feelings towards you, a blip plus or minus on the continuous up trend which is expressed as a number percentage.
Of interest, while spending time with a companion, eventually they will ask to talk you (shocker!
). Every companion in the game, has a personal issue they wish to convey to you and discuss. These are the most interesting times with your companions, when you can get something beyond a 1-2 sentence conversation out of them, although the developer made up your replies.
Sometimes you give them advice, and moral support, all canned of course, but for others a quest will pop up to help your companion and they will be very appreciative if you support them. The most interesting companion in this regard is Cait, the pretty Irish lass and cage fighter when you first meet her.
Anyway there are no facial expression or body language that is conveyed to you, and eventually the game will tell you your companion has reached his/her highest attraction towards you (around 120%), which makes zero difference in your relationship, other than you get a buff, Lover's Embrace when you sleep with your companion, just sleep, although Cait makes some suggestive comments from time to time.
These interactions are interesting, but other than that there is virtually no meaningful dialog between you and your companion. There are no casual conversations period. Your companions will make comments. If you ask them what's on their mind, you'll get a sentence out of them, where you usually have nothing important to say in response. If you ask about "our relationship" you'll get a one sentence statement about their feelings towards you. And you end it by telling them "Nothing more", end of discussion.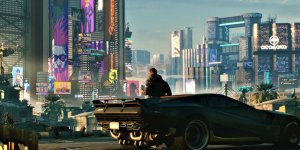 Cyberpunk 2077​
So that was 2015. Now let's look at a 2020 role playing game, which has gotten a lot of praise and criticism. It looks so amazing that you almost feel like you have stepped into a full blown city simulation, full of citizens all living their lives. But once you dive in, you quickly realize that there is a thin veneer to this presentation. Cyberpunk 2077's brilliance also highlights it's shortcoming. Something like this looks so real, you naturally expect more, like the ability to approach a stranger, ask them a question, and get more than being brushed off.
There are no dedicated companions in this CP2077, but there are romance candidates. Unfortunately these relationships are stilted, unrealistic, with very limited conversations if any and the next thing you know there is an opportunity to express affection. And with Fallout 4, there are actions as determined by devs where you can further your relationship or screw it up. But here again what you'll see this as shallow, nothing even approaching the development of a relationship, and arguably, most players would not want to take the time, but I'd think some minimal semblance of a relationship would be better than the superficial checks in the boxes that the developer decides is what constitutes a romantic relationship.
Therefore, I have to believe that improvements in AI and the ability to have an organic conversation just about any topic, within reason, would go a long way towards making RPGs and NPCs feel more realistic. In 2021, it appears we are still very far from anything resembling minimally normal conversations and the lack of better verbal communications, rubs our nose in just how shallow an environment is, and really holds back such a slick presentation as Cyberpunk 2077.
So what if we end up with terabyte sized games?
Thoughts?