Elite Member
Staff Member
Site Donor
Posts

4,866
Reaction score

7,574
iOS 16​
Rumors​
more social network Messages, notifications improvements, widgets on Lock Screen, interactive widgets, maybe some hint of always-on display (likely limited to the iPhone 14 family)​
Announcement​
Lock screen: [iPhone only] New lock screen allows photos to occlude time. Widgets on lock screen. Editable like complications on watchOS.​
Press and hold to edit.​
​
​
Swipe to try styles, color filters, background, and font for the time (like watchOS). Tap an element to pick fonts/colors. Widget gallery allows adding widgets. Temperature, battery, calendar, etc. Can add multiple widgets. Wallpaper gallery. Photoshuffle allows shuffling backgrounds. Suggested photos from library. Create multiple lock screens and swipe between them (like WatchOS). "Weather" background animates based on weather. WidgetKit for developers.​
​
Widgets/photo can be tied to Focus, and lock screens can be tied to Focus state.​
​
Notifications: [iPhone only] roll in from bottom of lock screen. Sort of like vertical cover flow. Live Activities make it easy to stay on top of things that happen in real time. Live Activities API for developers. Like notification that continuously update instead of firing off multiple notifications. Music Live Activities allow full screen view of album art.​
​
Focus filters: filters tabs in safari, conversations in messages, accounts in mail and events in calendar. Developer API.​
​
Messages: editable! Undo send! Mark thread as unread. "Shared with You" api for developers. SharePlay interface/gallery in FaceTime app. SharePlay extended to Messages. (SharePlay button in share sheet). Note: edit/unsend have 15 minute time limit. Note: if you edit a message sent to someone without iOS 16, it may appear edited on your device but won't on the recipients. Unsent (i.e. deleted) messages produce a warning that recipient may still be able to read if they don't have iOS 16.​
​
Dictation: All new on-device dictation, supports emoji. Keyboard stays open when dictating, allowing switching back and forth. Select text using touch and replace using voice. Punctuation automatically added. Mac and iPad as well, though hardware requirements vary.​
​
Siri: developer API in swift - app intents, shortcuts work with zero setup. Not clear what this is about.​
​
Live Text: added to video. Pause a video on any frame and interact with text. Quick Actions - tap away from translating, converting currency, etc. Can use live text in the Translate App with a new camera view. Live Text API (very nice - every pdf app needs to use that!). IPad and Mac, too, though hardware requirements vary.​
​
Visual Lift and Move: touch and hold and object in an image, lift from background, and place object in other apps. (Looks very fun for AR someday). Mac and iPad, too. Source apps and hardware vary.​
​
Wallet: sharing keys using messaging apps. (anybody actually able to use keys yet?) Making keys an industry standard.​
​
Apple Pay: mention of tap-to-pay. "Pay Later" - spread into four payments over 6 weeks, no interest. Accepted wherever Apple Pay is accepted. No changes on backend required. Order tracking! (Very nice) Shows information in wallet. Starting with shopify!​
​
Maps: 11 more countries for new maps. Adding Las Vegas. Multistop routing (up to 15 in advance). Previous routes stored in recents). Transit: fares displayed. Reload fare cards within Maps. Mapkit developer support: allows developers to integrate detailed city experience. Look Around coming to MapKit. Brand new server-side apis. (that do what?)​
​
Sports: Live Activities (again) - scores and play by play on lock screen. Apple News - follow teams and leagues in My Sports section, scores, schedules and standings included. Highlights, too. Favorites synced with apple tv app. US, UK, Canada and Australia.​
​
Family Sharing: easier to manage accounts for kids (sure). New way to setup device for kids, by selecting family member on setup. Family Checklist - helpful tips.​
​
Photos: iCloud Shared Photo Library - automatically share to shared library with 5 people. Can choose by start date, by people, everything, etc. Can manually send photos, too. Switch in camera to allow photos to go to shared library as you take them. Can choose to have shared library shift enabled based on presence of people. Everyone has equal permissions to add remove and edit.​
​
Privacy: Personal safety - safety check. For abusive relationships, settings section that lets you quickly review and reset access you've granted others.​
​
Home App: more efficient and reliable. Complete redesign. (About time). Whole home in scrollable view. New categories for climate, lights, security, water, etc. Tap on category, and see accessories and status by room. 4-camera view, with more scrollable. Different accessories more visually distinct.​
​
CarPlay: redesigned. Dashboard gauges. (for second screen). Deeper integration with car - change temperature, tune car radio, etc. Widgets can live in gauge cluster (or CarPlay screen). Entire instrument cluster powered by CarPlay. Different personalization options (layouts, analog vs. digital, themes, styles, etc.) Announcements "late next year."​
​
AirPods spatial audio: uses cameras somehow?​
​
Quicknote: coming to iOS​
​
More Memoji customizations​
​
Quicker updates (no need to update entire OS for security updates)​
​
Unannounced​
On some devices: Landscape Face ID​
​
In settings, you can now see your wifi passwords and delete wifi connections​
​
Optional haptics for the on-screen keyboard​
​
Cameras and Photos:​
​
Camera: in portrait and cinematic modes, you can blur the foreground, not just the background.​
​
Photos: find and delete duplicates. Undo and redo edits. Lock hidden and recently deleted photo albums. Copy and paste edits from one photo to another.​
​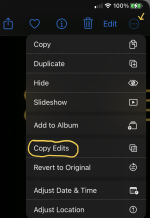 ​
​
Phone:​
​
Phone settings: can disable "lock phone to end call"​
​
E-SIM: when setting up a new phone, option to transfer an E-Sim from a nearby phone, without doing a restore. Not tested.​
​
If you have no signal, instead of seeing "no signal" you see "SOS." Not clear what this is for, since with no signal even emergency calls shouldn't work - maybe an indication that iPhone 14 will have emergency satellite communications?​
Books:​
​
New simpler interface​
​
No more curly page turns​
​
Options for light vs. Dark mode have changed, and now include an option to automatically adjust brightness:​
​
​
​
You can use third party authentication apps with the built-in passwords feature.​
​
Support for LC3 codec and maybe Bluetooth LE Audio standard?​
​
Support for Nintendo Joy-cons and Pro controllers​
​
Apps need permission to access the clipboard​
​
Web notifications support (opt in)​
​
Apple Music: sort playlists in various ways. Mark artist as favorite.​
​
Mail: if you mention an attached document in a composed mail, you are warned if you don't include an attachment when you attempt to send the email. If you haven't received a response to a mail thread, you will be offered a chance to follow-up.​
​
Files app no longer hangs while copying large files from external disks.​
​
Reminders app: notifications when shared tasks are added or completed​
​
Apple TV app adds support for HDR10+ (Update: apple has removed reference to this from its website as of June 9, 2022)​
​
Contacts: ability to find and merge duplicates. (Note: seems buggy at the moment). Press and hold on contact in list for menu which includes Delete.​
​
In print dialog, you can now type out the number of copies.​
​
Can blur background on Home Screen. Not just Lock Screen.​
​
Spotlight offers information about currently-playing audio. (Doesn't seem to happen on iPad in my testing)​
​
IDs (such as drivers licenses) stored in Wallet.app (where allowed by state) can be used to provide identity or age verification to apps that are updated to use the appropriate sdks.​
​
Safari:​
​
Separate favorite sites that correspond to a given tab group.​
​
Pinned tabs.​
​
Airpods:​
​
When connected to airpods, a new entry shows up near the top of settings.​
​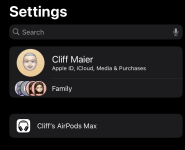 ​
​
The spatial audio feature that they mentioned using the truedepth sensors involves taking images of your ear geometry. (Apparently iphone-only to set up the spatial audio profile).​
​
Developer mode: In order to (1) sideload apps via xcode; (2) install apps via TestFlight; (3) execute apps that have been installed via xcode or TestFlight, you need to turn on developer mode in settings.app. This requires a reboot and entering your passcode a couple of times. This may be a precursor to eventually allowing alternative app stores.​
watchOS 9​
Rumors​
some new health stuff, new and improved watch faces, improved low power mode, improved sleep tracking, improved navigation, "afib history"​
Announcement​
Four new watch faces and remastered watch faces. Lunar watch face. Playtime (whimsical). Metropolitan. Dynamic font. More watch faces have rich complication. Refreshed siri. Banner notification changes. Podcast app changes. Share Sheet and Photos Picker APIs. CallKit API changes.​
​
Three running form metrics: Vertical oscillation, Stride length, Ground Contact Time. New workout views letting you see more metrics. Heart rate zones show you intensity level. New custom workout to add structure to run. New alerts (e.g. heart rate zone).​
​
Mixed sport workout type (for triathletes) automatically switches from one sport to the next.​
​
Fitness app available to all iphone users, using iPhone motion sensors instead of apple watch.​
​
Sleep stages: watch figures out sleep stage. REM, Awake, Core, Deep.​
​
Heart Health: Atrial fibrillation - if diagnosed, keep track of history (percentage of time).​
​
Medications: medications app allows you to track medicine and supplements. Log, notifications, complications on watch face, track in health app even without apple watch. Use camera to scan label of medications. Warns about interactions. Works with health sharing. Send family member invitation to share health data with you.​
​
Six new keyboard languages, new way to connect to Apple TV.​
​
Unannounced​
On Apple Watch Series 7, support for QuickType keyboard​
​
Automatically change watch face depending on Focus​
Mac/macOS 13 (Ventura)​
Rumors​
macOS Mammoth?​
system preferences now much more like iOS settings, with at least some "by app" preferences, focus mode​
Announcement​
M2! UMA still. 5nm. 20 billion transistors (25% more than M1). Memory controller 100GB/s. (50% more than M1). Up to 24GB memory. 8 core. 4 high performance with 192KB instruction/128KB cache, shared 16MB cache. 4 efficiency cores with 128KB instruction/64K data and shared 4MB cache.​
​
1.9x faster than PC 10 core chip. Much less power. GPU now up to 10cores (2 more than M1). Up to 25% more than M1 at same power level. Up to 35% more performance (meaning it allows more power usage than M1 GPU).​
​
M2 - next generation neural engine and secure enclave. 40% more neural ops per second. New Media Engine.​
​
New MacBook Air. Notch screen, new cameras, M2. speakers and mikes integrated between keyboard and display. MagSafe. Design more or less what had been rumored. Compact charger with two USB-C ports, etc. Four colors.​
​
New 13" MacBook Pro: also getting M2.​
​
Name of macOS: Ventura! (Not Mammoth!)​
​
Stage Manager: Automatic window organization. activated from control center. Arranges windows off to the side except for active app. Tap app on left and that app "takes the stage" and the others back off. Windows are gathered in a pile if they are from same app. Cycle through by clicking. Can also have multiple overlapping windows. Drag from left side. Creates app grouping. Keeps them arranged.​
​
Spotlight - find photos, search live text, actions (start timer or run shortcut), results more detailed for movies, tv shows, actors, sports, etc. Also coming to iPadOS and iOS. Added to bottom of home screen in iOS.​
​
Mail: scheduled send, follow up suggestions, undo send (within 10 seconds), remind me to come back to message at date/time. Overhauled search (synonyms, progressive search, etc). (Note: this stuff also works on iOS and iPadOS).​
​
Safari: world's fastest and power efficient browser. Shared tab groups. Built-in collaboration. Passkeys - replace passwords. Use cryptography and biometrics to keep accounts safe, instead of password. Use touchid or faceid. Never leaves device so can't be tricked into sharing it, and can't leak because nothing secret kept on web servers. Synced between apple devices.​
​
Gaming: Metal 3. MetalFX Upscaling. No Man's Sky coming. Game loading: fast resource loading api. Resident Evil Village demo. Feral Interactive announced Grid Legends coming to Mac later this year.​
​
Handoff for FaceTime calls​
​
Use iPhone as mac web camera (continuity camera). Craig showed a little MagSafe stand for that. Automatically recognizes iphone as web cam. Center stage. Studio light (brightens face and darkens background). Deskview - show work on the desk while keeping you in the picture. (Your physical desk. Very freaky!)​
​
​
Working with Belkin on stands. Works with any app.​
​
Unannounced​
System Preferences has been revamped to be more iPadOS-like​
​
Now there are clock and weather apps.​
​
USB-C and Thunderbolt accessories will need user permissions before they can communicate (doesn't apply to things like charging, monitors, or devices that have already been attached to the machine prior to upgrading to Ventura). Apparently only for laptop Macs.​
​
Background Sounds has been implemented, mirroring the same accessibility feature from iOS 15.​
​
New Game Controllers menu, additional support for new controllers, along with racing wheels, pedals, and shifters.​
​
macOS Ventura runs x86 apps inside of Linux VMs using Rosetta 2​
​
When selecting "share" from a right-click menu, you now get an iOS-style share sheet Instead of a submenu:​
​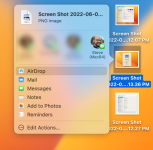 ​
iPadOS 16​
Rumors​
improved multitasking, resizable floating windows, and everything else that is coming to iOS generally.​
Announcement​
Weather app!​
WeatherKit (dark sky technology)​
​
Collaboration: send something with share sheet and select "collaboration." Send via messages, and everyone can join and make edits. Document "connected" to conversation. Can kick off communications within app. Works with pages, safari, keynote, notes, and sdk for developers. Also for iOS and macOS.​
​
FreeForm app: (later this year). Looks like a white board/infinite canvas. Can put all sorts of stuff on it - links, images, videos, text, etc.​
​
Gaming: Metal 3. Background downloading of large assets. GameCenter: "activity" to the dashboard. SharePlay make it easier to play together.​
​
Desktop class apps​
​
Files: change file extensions, view folder size, expand folders in list view, navigation button, sortable columns, enhanced open and save panels.​
​
Customizable toolbars, document menu, new sdks to support all this. Much more mac-like.​
​
Reference color: reference mode for color grading, etc.​
​
These features require M1 Air/Pro iPad:​
​
New display scaling setting, allows increase of pixel density (nice)!​
​
Virtual memory swap!!!!!!​
​
Stage manager! resize windows. Visible dock, recent apps on left. New layout capabilities - overlapping windows. Windows reposition as you move them around. Can resize. Note: press and hold on the icon for stage manager in control center and you can disable "always show dock" and "always show list of recent apps on left"​
​
Real multiple display support!​
​
Up to four simultaneous apps in window (x2 if external display)​
​
Unannounced​
When suggesting passports, instead of just "choose your own," there is a menu with multiple choices.​
​
​
Handwriting straightening: select text you write with Apple Pencil, and you can "straighten" it by selecting it and then choosing "straighten" from a pop up menu:​
​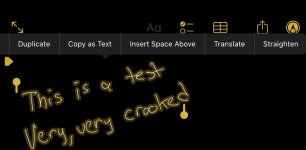 ​
​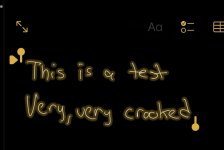 ​
​
If enabled in the Settings app, Safari can "show links on hover" if you are using a pointing device. Sort of like the bar you can show at the bottom of the Mac safari window.​
​
Mac-style multiple selection when using trackpad. (Or keyboard with shift/option tap)​
​
System support for secondary (right or option) clicking for context menus; "find" and "replace" interface (above soft keyboard or in the "suggestions" lozenge if you are using a hardware keyboard; support for sortable table views with sort indicator headings.​
​
Unconfirmed​
Across the board​
Rumors​
Classical music for Apple Music. Something about a search engine (maybe standalone, maybe replacing Siri's search backend), some sort of 3D gestural controls (eventually for VR)​
​
Announcement​
Homekit: discussion of Matter standard.​
​
Unannounced​
Bitcode is deprecated​
​
​
WWDC Keynote Time Allocation​
To the extent this tells us about Apple's priorities...
10:00-10:04 Tim Cook discusses developer camps and misc. preliminaries. Says there are 34,000,000 App Store developers
10:04-10:11 Craig is really excited. iOS Lock screen/
10:12-10:15 Craig on messages, SharePlay, sharing
10:15-10:19 - Robbie on dictation
10:19-10:22 - Corey on Wallet
10:22-10:26 - Maps (Craig and Meg)
10:26-10:28- Ruby on Sports
10:28-10:29 - Family Sharing (Craig)
10:29-10:32 - Photo sharing
10:32-10:34 - Privacy (Katie)
10:35-10:38 - Homekit (Corey #2)
10:38-10:42 - Emily on CarPlay
10:43-10:54 - Kevin, Sumbul and Craig #2 on Apple Watch
10:55-11:11 - Johnny and others on Mac
11:11-11:17 - macOS
11:17-11:21 - Darren on mail and Safari
11:21-11:26- Jeremy on Gaming/Metal
11:26-11:30 - continuity
11:31-11:46 - iPadOS
Last edited: